On top of a really rough week, I sit here trying to soak in the amazingnesss of last night. I probably will not be doing much this weekend :) I will start my relaxing weekend by sharing some of my favorite products!
1. New Victoria's secret body mist line. I do not have the bottle with me right now and I could not find a pic but the line is amazing. It has a more "perfumey" smell. I especially love the pink one!
2. Gap's So Pink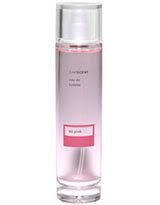 Every time I wear this, I get compliments. It's the ultimate summer scent bc its flowery, citrusy, spicy. I've worn this since 8th grade!
3. Degree deodorant: Nature Effects line. I cannot tellyou how amazing this smells, and it lasts ALL day!
4. Revlon Nail polish in Red Hot Tamale (bright red) and Tropical Temptation (coral pink). The color pay off is amazing with these polishes, with one coat you're good.
5 .Coach Wristlet
Aside from being too adorable, they are perfect for when you are on the go and don't want to carry a huge purse!
6. Softlips in Vanilla
Simply love love love.
More to come......
xo