I have an unhealthy relationship with sleep. I love it, it loves me, yet we cannot compromise. This week was somewhat awkward...i felt like i needed to start studying for my exams but I found myself falling asleep in the library every single time I sat down to study. I think about going home a lot, I'm TOO anxious for summer! I just got back from meeting up with a friend that I haven't seen in a while and once again I cannot sleep hehe. This coming week will be bitter sweet, I will finally be done with BIO and CHEM midterms but that means I'm a week closer to finals. I'm hoping to have one last fun friday night before then ;) I just noticed I'm rammmbbbllliiing and this blog is going no where. That's okay, it's 2 am. lol
So I've been thinking of getting a tattoo, a spanish saying on my right side:
This is too much but I fell in love with it when I say Hayden Panettiere's: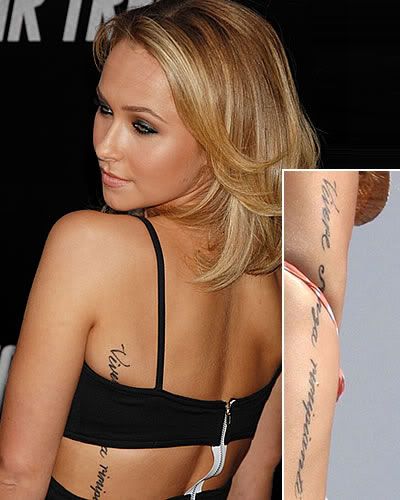 I still have not gotten the courage but I would love to get it done :) We'll see....
xoxo